What a long, bright trip it's been for Richard Lederer, Mensa's best known "verbivore." From pre-med student to radio personality to internationally recognized author and punster, Richard has spent a lifetime evolving his interests and pursuits — and always achieving success. Former child actor Myles Jeffrey finds out what can be learned from another's life experience. (48 minutes, 15 seconds)
Richard Lederer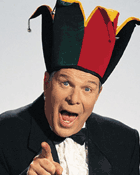 Richard Lederer is the author of more than 30 books about language, history and humor, including his best-selling "Anguished English" series and his current book, Presidential Trivia. His syndicated column, "Looking at Language," appears in newspapers and magazines throughout the United States, and he frequently appears on radio as a commentator on language.
For his next evolution, Dr. Lederer is introducing a new book series featuring "wit and wisdom, information and inspiration" on a variety of topics; A Treasury for Dog Lovers and A Treasury for Cat Lovers are the first two installments. Learn more at Rich's personal website.
Myles Jeffrey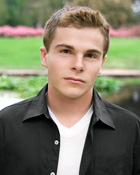 At 18 years old, Myles Jeffrey has been a Mensa member for most of his life; an actor since age 5, Myles has more than 30 television and movie credits to his name. During his senior year of high school, Myles was featured on the Jeopardy! Teen Tournament, finishing as a semi-finalist.
He is an English major at UCLA but looking to transfer into UCLA's top-ranking undergraduate film production program. In spring 2009, he worked on the independent film 11:11 as first assistant director as well as an actor. Upon graduation, Myles hopes to become a film director and screenwriter.