In the latest episode of our in-house podcast series, Conversations with Mensa, we welcome intelligence specialist Dr. Deborah Ruf as she interviews Dr. Joyce VanTassel-Baska, a lifelong educator, former Executive Director of the Center for Gifted Education at The College of William and Mary, and Mensa Foundation Lifetime Achievement Award winner. As Dr. VanTassel-Baska makes her transition into retirement — and you can hardly call it that — her focus remains on contributing to the programmatic education of gifted youth, both at home and abroad.
This conversation begins to touch on the myriad facets of gifted education, including the design and development of curriculum and programming in line with the new common core, philosophical attitudes that may be hindering student growth, the differences and similarities in domestic and foreign education and the division in research goals between those gifted educators with education-specific and psychology-specific backgrounds.
Joyce VanTassel-Baska, Ed.D.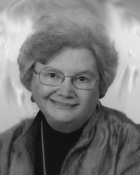 Joyce VanTassel-Baska is the Jody and Layton Smith Professor Emerita of Education and former Executive Director of the Center for Gifted Education at The College of William and Mary in Virginia where she developed a graduate program and a research and development center in gifted education. She also initiated and directed the Center for Talent Development at Northwestern University. Prior to her work in higher education, Dr. VanTassel-Baska has served as the state director of gifted programs for Illinois, as a regional director of a gifted service center in the Chicago area, as coordinator of gifted programs for the Toledo, Ohio public school system, and as a teacher of gifted high school students in English and Latin.
Dr. VanTassel-Baska has published widely including 27 books and over 500 refereed journal articles, book chapters, and scholarly reports. She was selected as a Fulbright Scholar to New Zealand in 2000 and a visiting scholar to Cambridge University in England in 1993. Her major research interests are on the talent development process and effective curricular interventions with the gifted.
Deborah Ruf, Ph.D.
Deborah L. Ruf, Ph.D., is a specialist in intelligence assessment and individualized interpretations and guidance for both gifted children and adults. She practices in the Minneapolis/St. Paul area of Minnesota, where her testing, research, writing, and speaking focus on school and educational issues, as well as related social and emotional adjustments for gifted children — particularly those at the highest levels of giftedness. Dr. Ruf was awarded the Mensa Intellectual Benefits Award for 2007.
Having been a parent, teacher, and administrator in elementary through graduate education, she writes and speaks about school issues and social and emotional adjustment of gifted children. Her award-winning book, 5 Levels of Gifted: School Issues and Educational Options (2005), summarizes "levels of intelligence" and highlights the spectrum of giftedness in children. For more information see talentigniter.com.