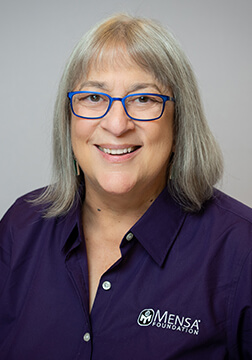 Marie Mayer actively volunteered for Mensa for many years before becoming a Foundation Trustee, Vice President, and then President. She currently serves as a Trustee to aid in Charlie Steinhice's transition to President.
Marie was honored with the American Mensa Distinguished Service Award in 2016, National Service Award in 2010, and the Chairman's Award for outstanding service to the organization in 2000 and 2019. She is a former Communications Officer, national publications editor, and leadership development presenter, along with multiple committee appointments and local offices. She has also been active in professional organizations, holding local, regional, national, and international offices.
Marie is currently a Proctor and Testing Coordinator for Central Iowa Mensa. As a volunteer, she also donates her time and material to piece quilt tops for the Quilts of Valor Foundation as well as participates in presentation ceremonies. Her past volunteer activities have included FIRST Lego League, Iowa Special Olympics, and Giving Tree.
She has a bachelor's in computer science and a master's in technical communication/English, both from Iowa State University. She is retired from the Information Technology Services department at Iowa State University, where she was a member of the Professional & Scientific Staff Council and various university committees.
Marie joined the Foundation board to help make a difference in the lives of intelligent people and was elected President of the Board in 2016. She and her husband, Larry Brandt, live in Ames, Iowa, and together run a property management/home renovation company. She says her areas of expertise are communications and cooking.