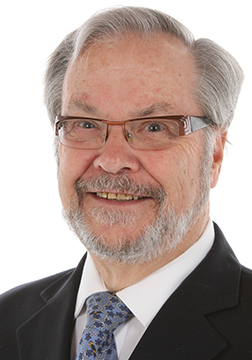 Dr. Françoys Gagné is being honored for his long-term investment and realizations in the analysis and promotion of intellectual giftedness and academic talent development — aka gifted education. Actually, the distinction between giftedness and talent is at the heart of Dr. Gagné's famous Differentiated Model of Giftedness and Talent.
He became interested in talent development in the 1970s, after a decade of research on student evaluations of teaching. Although Dr. Gagné's research brought him to study a variety of subjects within the field of gifted education — such as attitudes toward the gifted and their education, peer nominations, and developmental profiles — he is best known internationally for his theory of talent development, which has been endorsed by various educational authorities as their framework to define their target population and plan intervention provisions.
The National Association for Gifted Children recognizes Dr. Gagné's Differentiated Model of Giftedness and Talent as one of the most prominent theoretical conceptions of giftedness: "In his model, the term giftedness designates the possession and use of untrained and spontaneously expressed natural abilities (called aptitudes or gifts) in at least one ability domain to a degree that places a child among the top 10 percent of his or her age peers. By contrast, the term talent designates the superior mastery of systematically developed abilities (or skills) and knowledge in at least one field of human activity to a degree that places a child's achievement within the upper 10 percent of age-peers who are active in that field or fields."
One key aspect of Dr. Gagne's model is that it also shows the intrapersonal and environmental catalysts that can affect an individual's process in learning and developing skill. That helps to identify the points of intervention where one teacher, one role model, or one additional resource can make a difference.
Dr. Gagné has received many awards in gifted education, including the NAGC's Distinguished Scholar Award in 1996 and from the Mensa Foundation a 1994 Award for Excellence and a 1998 Award for Excellence in Research. Although retired from his professorship at the Université du Québec à Montréal since 2001, Dr. Gagné maintains international publishing and keynoting activities.
The Mensa Foundation's Lifetime Achievement Award is presented every other year in recognition of a lifetime of contributions to the field of intelligence and related subjects.