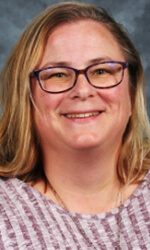 As a young student in rural 1990s Wisconsin, Mensan Jessica Street was on the wrong path, skipping classes and engaging in other behavior that led to her arrest and yearlong detention.
Jessica describes that path — "I ended up one of the bad kids" — in an essay called "She Changed my Life; She Saved my Life." The "she" in that title is Karyl Kubick Hanson, a teacher at Berlin High School in Berlin, Wis., and this year's Mensa Foundation Distinguished Teacher.
This "beautiful woman [who] had a shell much tougher than my own," says Jessica, saw potential and overlooked her flaws. "She helped make it possible for me to not only finish high school without being held back a grade but to graduate a full eight months early."
Today, almost 19 years later, Jessica is an honors graduate and a registered oncology nurse with a daughter (also a Mensan) of her own. "I would not be here if not for my teacher," Jessica reminds us. "Not just where I am now, but I may not even be here at all."
The Mensa Foundation's Distinguished Teacher Award recognizes a teacher, professor, or instructor at any educational level who has had an especially positive influence on the education or life of a Mensa member.