His innovations are helping scientists gain systems-level understanding of immunology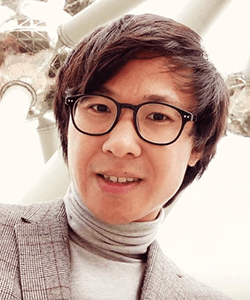 Arlington, Texas, July 23, 2020 — Immune systems researcher Kenneth Y. Wertheim is the 2020 winner of the Mensa Foundation's International Intellectual Benefits to Society Award.
As a research associate at the University of Nebraska-Lincoln, Dr. Wertheim led a team of researchers to divide and conquer the immune system's essential mechanisms and devised a novel algorithm to integrate these disparate models over length and time. The virtual immune system project is funded by the National Institutes of Health. The impact of these innovations is hard to overstate, considering that the human race relies on the immune system for survival and the ongoing challenges of creating a vaccine for COVID-19.
To validate the method, Dr. Wertheim used it to model CD4+ T lymphocytes, a cell type responsible for activating other immune cells. The simulation results agreed with multiple experimental findings and point to novel properties of CD4+ T cells. With few direct relationships between its dependent and independent variables, the only constant among the immune system's physical, chemical, and biological reactions is their unpredictability. Dr. Wertheim wants to upend that paradox by virtually, and holistically, modeling the immune system to simulate its responses to insults.
"The Mensa Foundation is honored to recognize Dr. Wertheim, whose virtual immune system research exemplifies the Foundation's mission to use intelligence to benefit humanity," said Marie Mayer, Mensa Foundation President.
"I consider myself a systems theorist," said Dr. Wertheim, who earned degrees at Imperial College London, Columbia University, and the University of Southampton. "I was trained in chemical engineering, applied mathematics, aspects of computer science, and various life sciences."
Dr. Wertheim is now a research associate at the Insigneo Institute for in silico Medicine at the University of Sheffield, where he is building a cloud-based decision-making platform for the clinical management of malignant solid tumors. From England he remains a consultant on the University of Nebraska project, being directed by Dr. Tomáš Helikar. "Once the virtual immune system is complete, there is infinite potential in terms of applications," Dr. Wertheim said.
The Mensa Foundation's International Intellectual Benefits to Society Award recognizes the application of Mensans' intellectual abilities that result in tangible benefit to society.
# # #
For almost 50 years, the Mensa Education and Research Foundation has unleashed intelligence by providing scholarships, promoting research, championing gifted youth, and empowering educators. Governed by a volunteer Board of Trustees, the Mensa Foundation is a 501(c)(3) organization funded by American Mensa, Mensa members, and other charitable donations.