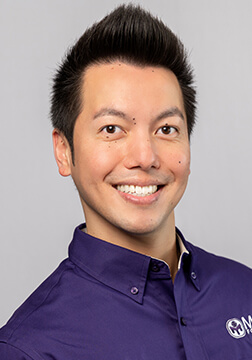 Arlington, Texas, Dec. 3, 2020 — The Mensa Education and Research Foundation has appointed Michelle Rakshys, an Amazon executive, and Nguyen Pham, a Circlepoint marketing and communications manager, as Trustees to its Board.
"We are thrilled to welcome Nguyen and Michelle as new Trustees," said Board President Charlie Steinhice. "They've already demonstrated a commitment to the Mensa Foundation's mission as volunteers, and they bring fresh energy as well as insight from their leadership experience in other nonprofit organizations."
Michelle Rakshys is the Senior Program Manager for Global Diversity, Equity, and Inclusion at Amazon, where she manages strategy, budget, and programs for the retail organization. She is Vice President of the Global Board of Women@Amazon, overseeing more than 70 global chapters and 17,000 members. She has a bachelor's in mass communication from King's College, a master's of music business from New York University, and a certificate in project management from the University of Washington.
A member of American Mensa since 2005 and a Seattle resident, Rakshys runs the Mensa Foundation's scholarship program for her local chapter, Mensa of Western Washington.
"Reading all of those scholarship essays every single year was just so impactful and helped me understand the impact these scholarships have on students," she said.
With a bachelor's from UC-Berkeley and an MBA from San Francisco State University, Nguyen Pham brings more than a decade of strategic communications experience and involvement with local charitable boards to his new role as Trustee. In 2010 Pham joined American Mensa (San Francisco Regional Mensa local chapter) and almost immediately began working with the Mensa Foundation on one of its annual fundraising events, later hosting it for eight years.
"We officially raised $100,000-plus for the Foundation, and that's astounding," said Pham. "I love that I'm a part of that milestone. I share that milestone with so many incredible volunteers."
# # #
The Mensa Education and Research Foundation exists to foster intelligent solutions to real-world problems, encourage and promote diverse perspectives, and recognize those making contributions toward our understanding of intelligence. For nearly 50 years, the Mensa Foundation has provided scholarships, promoted research, championed gifted youth, and empowered educators. Governed by a volunteer Board of Trustees, the Mensa Foundation is a 501(c)(3) organization funded by American Mensa, Mensa members, and other charitable donations.