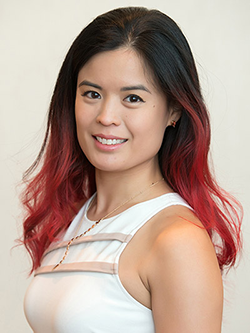 Hurst, Texas, Dec. 13, 2022 — The Mensa Education and Research Foundation has appointed Jeff Papa and Billie Lee as Trustees to its Board.
Now based in Michigan, Lee has worked in web development, design, and marketing. she has been a member of American Mensa since 2007. She was elected and served as Second Vice Chair on the American Mensa Committee from 2017-21 and currently serves as Chair of the Gifted Youth Committee.
Lee holds a master's degree in information, specializing in human-computer interaction, from the University of Michigan.
"In a past role as a nonvoting liaison to the Mensa Foundation, Billie was a key thought contributor to our board discussions," said Charlie Steinhice, President of the Mensa Foundation Board. "Combine that with her action orientation and her commitment to the Foundation's mission, and I have no doubt she will be an outstanding Trustee."
Papa is Chief of Staff and General Counsel for the Indiana Senate. He was appointed Editor-in-Chief of the Mensa Research Journal in 2021.
First joining American Mensa in 1996, Papa is a member of the Central Indiana Mensa chapter. He has a rich association with education and with the community of Zionsville, Ind., where besides serving as its first mayor, he has served as President of the Town Council and President of the Board of Police Commissioners, and he serves on the Zionsville Community Schools Board of Trustees.
After earning his B.S. from Rose-Hulman Institute of Technology and M.A. from Ball State University, Papa received his Ph.D. in Education Leadership and Administration from Indiana State University, as well as a graduate certificate in Higher Ed and Student Affairs from IU-Bloomington. He has also completed the Academy for Teaching and Learning Leadership at Marian University.
Papa previously was an attorney with Barnes & Thornburg, practicing immigration law, and served two terms as chair of the Indiana chapter of the American Immigration Lawyers' Association, as well as two terms on the national board of governors of the American Immigration Lawyers Association. A distinguished Fellow of the Indianapolis Bar Foundation, Papa earned his J.D. from the Indiana University Robert H. McKinney School of Law, as well as an LL.M. degree concentrated in intellectual property law.
"Jeff has already brought a combination of fresh ideas and real-world experience to the Mensa Foundation in his role as Editor of the Mensa Research Journal," said Steinhice. "We're confident he will bring both perspectives to the Board to help us broaden our scope while strengthening our existing programs."
# # #
The Mensa Education and Research Foundation exists to foster intelligent solutions to real-world problems, encourage and promote diverse perspectives, and recognize those making contributions toward our understanding of intelligence. For more than 50 years, the Mensa Foundation has provided scholarships, promoted research, championed gifted youth, and empowered educators. Governed by a volunteer Board of Trustees, the Mensa Foundation is a 501(c)(3) organization funded by American Mensa, Mensa members, and other charitable donations.