University of Illinois scholar awarded $10,000 Mensa Foundation Prize
ARLINGTON, TEXAS, April 16, 2019 — Professor Aron K. Barbey, director of the Center for Brain Plasticity at the University of Illinois Urbana-Champaign, has been awarded the second Mensa Foundation Prize for his innovative research applying functional magnetic resonance imaging to the mapping of brain lesions and measuring their effects on raw intelligence, thus significantly advancing the neuroscience of brain connectivity.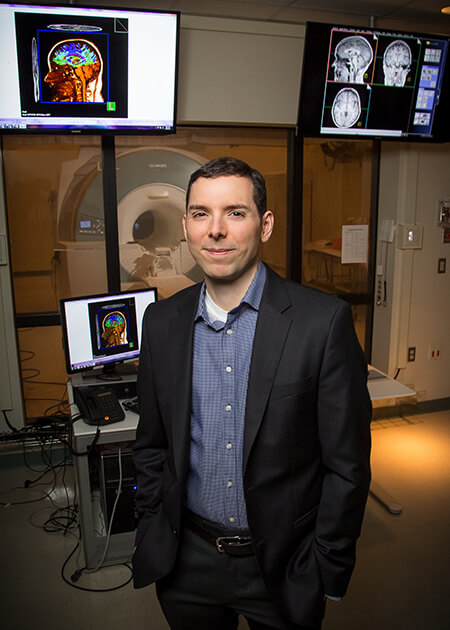 The $10,000 award recognizes applied and fundamental discoveries in areas such as brain-related research, creation of tools and mechanisms for advancing such research, or any significant research that leads to an improved understanding of human intelligence, including artificial intelligence.
"Dr. Barbey's work was unique in that he is a rare scientist studying actual human general intelligence and integrating its quantitative measure with a variety of biological experimental measures in a multidisciplinary model," said Dr. Susan Stine, a neuroscientist and member of the Prize Committee. "I think Dr. Barbey's ongoing experimental and creative activity indicates that we will see continued important contributions to the field going forward which would be a very good outcome for the Mensa Foundation Prize."
Dr. Barbey will discuss his research and be presented the award in July at American Mensa's Annual Gathering in Phoenix. "A powerful insight for understanding human intelligence derives from the brain's most unique and essential characteristic: plasticity. The brain demonstrates a remarkable capacity to reconfigure itself — to continually update prior knowledge on the basis of new information and to actively generate internal predictions that guide adaptive behavior and decision making," said Dr. Barbey, who also directs the Decision Neuroscience Laboratory at the Beckman Institute for Advanced Science and Technology. A full interview with Professor Barbey is available on the on our website.
"Contemporary research and theory conceive of the brain as a dynamic and active inference generator that anticipates incoming sensory inputs, forming hypotheses about the world that can be tested against sensory signals that arrive in the brain. Plasticity is therefore critical for the emergence of human intelligence — providing a powerful mechanism for updating prior beliefs, generating dynamic predictions about the world, and adapting in response to ongoing changes in the environment," Barbey said. "The implications of this idea for understanding human intelligence and its origins in the flexibility and dynamics of brain networks will continue to transform the field in the coming decades."
In addition to Dr. Stine, the Prize Committee is composed of Nobel Prize laureate Dr. Ivar Giaever, physicist Dr. Harry Ringermacher, and global health innovator Dr. Steven Maranz. The biennial Mensa Foundation Prize is endowed by the estate of longtime Mensan Kenneth Douglas Thomson (1934-2013).
"This award is a reflection of the Mensa Foundation's efforts to inspire and empower intellectually gifted people," said Marie Mayer, President of the Mensa Foundation Board of Trustees.
# # #
For more than 40 years, the Mensa Education and Research Foundation has advocated for intelligence by providing scholarships, promoting research, championing gifted youth, and empowering educators. Governed by a volunteer Board of Trustees, the Mensa Foundation is a 501(c)(3) organization funded by American Mensa, Mensa members, and other charitable donations.