Mensa Foundation awards Gifted Education Fellowship to NJAGC leader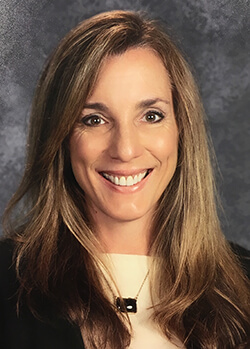 ARLINGTON, TEXAS, June 10, 2019 — Lynne Henwood, a teacher in the Washington Township (N.J.) school system and a regular advocate for gifted and talented students in the Trenton Statehouse and Congress, is the 2019 winner of the Mensa Foundation's Gifted Education Fellowship.
Beyond her advocacy efforts, Henwood's body of work includes designing a teaching unit, based on the Autonomous Learner Model, empowering fifth grade students to utilize 21st century skills such as choice, collaboration, creativity, critical thinking, and technology. She was honored in 2018 as Teacher of the Year for the New Jersey Association of Gifted Children, where she now serves as president.
"Lynne has touched the lives of many families and has had an impact on curriculum, programming, and policy," said Dr. Keri Guilbault, professor at Johns Hopkins University and Mensa Foundation Trustee. "We look forward to her continued success and are inspired by her commitment to the field of gifted education."
The $5,000 Gifted Education Fellowship was created to assist outstanding educators in acquiring a graduate degree in gifted education or a closely related field. Henwood is pursuing a master's of educational psychology at the University of Connecticut, learning that "will allow me to develop an even deeper understanding of gifted children and their needs," she said.
"The Mensa Foundation believes that gifted learners of all ages and from all backgrounds need supportive, nurturing environments where they can explore their interests and passions," said Dr. Guilbault. "They also need educators who are skilled at recognizing their individual strengths and providing an appropriate education to maximize their potential."
# # #
For more than 40 years, the Mensa Education & Research Foundation has advocated for intelligence by providing scholarships, promoting research, championing gifted youth, and empowering educators. Governed by a volunteer Board of Trustees, the Mensa Foundation is a 501(c)(3) organization funded by American Mensa, Mensa members, and other charitable donations.