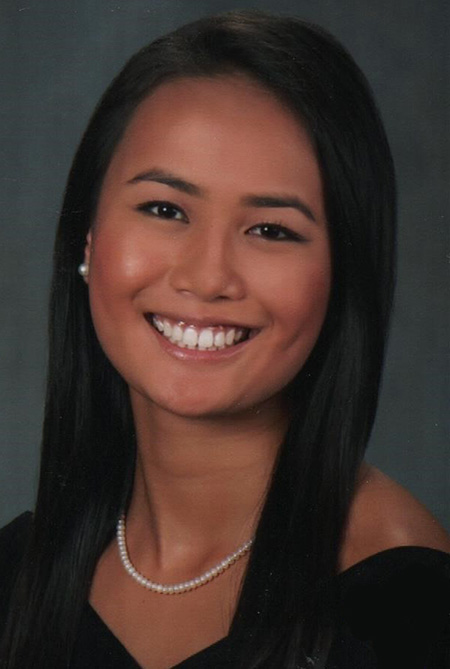 This month, hundreds of Mensans will begin the challenging yet uplifting task of evaluating Mensa Foundation scholarship essays. Some 400 judges will help determine how nearly $125,000 in scholarships are allocated, based on the applicants' written submissions.
Nearly 200 students, Mensans and non-Mensans alike, will receive funds for college, ranging from $600 to $2,000. Lost sometimes in the breadth of the Foundation's scholarship program are the individual applicants who are impacted — and their compelling stories.
Last year, 18-year-old Nicole Hittell of Bradenton, Fla., was awarded the Harper Fowley Scholarship for Isolated Ms, or Mensans who do not belong to a particular Local Group.
Born in Wuxi, China, Nicole celebrated her first birthday on an airplane en route to the United States with her new mother, Susan. She entered the University of Florida (Gainesville) this past fall as a junior, having completed her first two years of college while finishing high school. Nicole plans to obtain her bachelor's in political science by age 20 and continue to law school for her J.D. She said she learned a lot working in her dad's law office this past summer and hopes to eventually study abroad.
Nicole loves the classes she is taking and finds time management to be a major change from high school (although she obviously already excels in this trait). Two of her favorite books are David Copperfield and Pride and Prejudice. (She enjoys reading anything by Jane Austen.) She stays busy working out and playing sports, particularly pick-up games of basketball and running with friends on nature preserve trails.
Giving credit to her parents for supporting and guiding her and, especially, for keeping her grounded, Nicole also expressed her thankfulness for the Mensa scholarship award. Here is her winning essay.
My life started 17 years ago on a different continent, in China. Today, I am an Asian girl with a German surname living in Bradenton, Fla. My unusual background has helped mold me into the person I am today and continues to shape my unique perspective on life. Though I was born in communist China, I was given the opportunity to live in America. I have a strong sense of understanding of how my life could have been different. I am fortunate that my mother was loving and became a voice for me when she adopted me.
As a daughter of a lawyer, I was exposed to legal jargon at an early age. I heard words such as courts, appeals and litigation. My father encouraged me to volunteer as an attorney at the local Teen Court program, which allows young adolescents who have committed and pled guilty to a crime a second chance. The defendant participates in an actual trial complete with a judge, teen attorneys and jury and receives a sentence of community service. After the sentence is completed, the crime is expunged from the defendant's record. Teen Court has saved countless young adolescents from being placed into the Juvenile Court system.
In one case, I bonded with a 17-year-old college student who was struggling to support herself. Arrested while shoplifting food, she had elected to go through Teen Court. By interviewing her before her trial, I gained details about the circumstances of her arrest as well as her academic goals to present to the jury. Her obvious remorse led me to fight hard for a reduced sentence. When she received the minimum punishment available, I felt a sense of accomplishment when she shook my hand and thanked me.
When I volunteer as an attorney at Teen Court, I'm given the choice to defend or prosecute the defendants. I always choose to defend. I try to show my clients that I care about their future and that they have been given an important opportunity to change their behavior. At-risk children need to have an advocate who believes in them.
Teen Court has inspired me to become a lawyer and earn my law degree in Florida. I hope to eventually practice criminal law. To accomplish my career goals, I enrolled in an accelerated academic program to earn my high school diploma and Associate of Arts degree simultaneously. I have maintained a 4.0 GPA for three semesters and serve as the Vice President of Scholarship of the international honor society Phi Theta Kappa.
I have taken several college-level general and criminal law classes and shadowed different types of attorneys in court to give me more experience. After I graduate in May, at age 18, I am transferring to a university in Florida as a junior to study political science as well as prepare to take the LSAT. I also plan on becoming an adult volunteer for Teen Court.
As I focus my studies, Teen Court will always be my inspiration for going into the legal field. I have a passion for the law and am deeply committed to represent people who are in trouble and in need of help. Being a voice for others, as my mother became a voice for me, motivates me.
The stories behind these essays give us hope and reward us for the time and money we contribute to the Mensa Foundation. As the annual task of evaluating scholarship essays begins, consider a donation to the Foundation to help us lighten the financial burden of higher education for more students — and to generate more of those compelling stories.