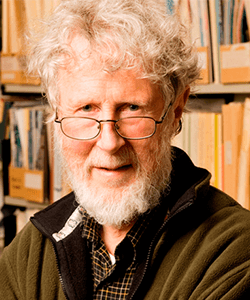 Creative and influential, Dr. James Robert Flynn has spent an academic lifetime providing surprising and illuminating answers to the question "What is intelligence?"
In research and in numerous books, Dr. Flynn integrates psychology and political and moral philosophy to explore race, class, and IQ, advocating for meritocracy and racial equality of rights. His pioneering research into substantial gains in IQ scores across the 20th century yielded the "Flynn effect," which essentially explains that IQ measures not how smart we are but how modern we are.
While our great-grandparents were highly intelligent, Dr. Flynn discovered, they would have scored poorly on IQ tests because they missed out on the 20th century's cognitive revolution.
Why our IQ levels are higher than our grandparents' Courtesy TED.com
"If the everyday world is your cognitive home," Dr. Flynn writes, "it is not natural to detach abstractions and logic and the hypothetical from their concrete referents."
Originally from Washington, D.C., and educated at the University of Chicago, Dr. Flynn immigrated in 1963 to New Zealand, where he is Professor Emeritus at the University of Otago and a Fellow of the Royal Society of New Zealand. He received the university's Gold Medal for Distinguished Career Research. He lives in Dunedin and competes in veterans athletics, holding five records in distance running.
The Mensa Foundation's International Lifetime Achievement Award is presented every other year in recognition of a lifetime of contributions to the field of intelligence and related subjects.