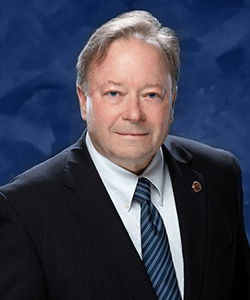 Now a First Vice President at Morgan Stanley, Mensa Life Member Dr. Paul Lorin Bechly's first career as a chemical engineer at DuPont presented him with what he describes as "the most intellectually challenging assignment of my life."
Environmental science and atmospheric chemistry were developing fields, but research was beginning to indicate how perfluorocarbon gases, once considered ideal for industrial use, were major contributors to global warming due to their long atmospheric lifetimes and relatively high radiative properties.
Tasked with researching the environmental impacts of these specialty fluorochemicals, Dr. Bechly directed a roundtable of technical, environmental, and business representatives to develop and implement responsible environmental corporate policies to eliminate PFC emissions. The roundtable's recommendations lead to cross-industry consensus on proactive approaches to curb what was then a little-understood issue potentially contributing to irreversible damage to Earth's atmosphere.
As a result of his work, Dr. Bechly was awarded DuPont's Environmental Excellence Award in 1992, and provisions to control PFC emissions were made a part of "The Climate Change Action Plan" signed by President Bill Clinton and Vice President Al Gore.
The Intellectual Benefits to Society Award recognizes the application of a Mensan's intellectual abilities that result in a tangible benefit to society. It may be a single achievement such as an invention, or it may be the cumulative effect of several innovative accomplishments, but it must be shown to have a tangible benefit to a substantial number of people.