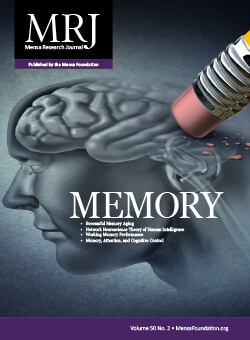 The topic for the summer issue of the Mensa Research Journal is memory. Actually, I was looking for a cure for aging memory. Unfortunately, there is none — yet.
While searching for articles for this issue a lot of what came up was about artificial intelligence. This is such a hot topic that I am thinking of revisiting it. It was just one year ago that we had an issue on human and artificial intelligence. Much has changed since then. There is also much research into animal intelligence, another topic that I am considering.
I did manage to find what I hope is a good selection of articles on recent research into human memory. While the first article, "Successful Memory Aging" by Lars Nygerg and Sara Pudas, does not offer a cure for memory aging it does show how to make the most of what you have.
"Network Neuroscience Theory of Human Intelligence" by Aron K. Barbey is not as directly related to the topic, but was so well received by our Editorial Advisory Board that I decided to include it — I had originally thought I'd hold it for an issue on g, general intelligence. Please enjoy Prof. Barbey's research and his interview with Mensa Bulletin Editor Chip Taulbee.
The rest of the articles look at various aspects of memory. This includes the effects of memory on learning and cognition.
I hope that you find the issue enjoyable and informative. As always, please let me know your thoughts.
Published three times yearly, the Mensa Research Journal highlights scholarly articles and recent research related to intelligence from a diverse selection of nationally and internationally esteemed authors. Learn more about the MRJ and subscribe today.
Research featured in this issue