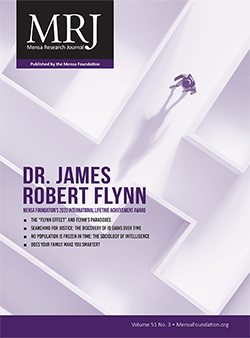 The latest Mensa Research Journal features a range of work by and about Dr. James Robert Flynn, FRSNZ, winner of this year's International Lifetime Achievement Award presented by the Mensa Foundation. The award is presented every other year in recognition of a lifetime of contributions to the field of intelligence and related subjects.
Dr. Flynn has been a prolific researcher in search of answers to the question "What is intelligence?" Depending on your perspective, his research and answers have been noteworthy, illuminating, attention-grabbing, and/or controversial. Most definitely, he has been prolific and thought-provoking. As one member of the MRJ Advisory Board stated, "He angers liberals and conservatives."
Currently an Emeritus Professor of the Department of Psychology jointly with the Department of Politics at the University of Otago in New Zealand, Dr. Flynn integrates psychology, political philosophy, and moral philosophy to explore race, class, and IQ in his research and many books. His research interests include humane ideals and ideological debate, while advocating for meritocracy and racial equality of rights.
Prominently known by many is his pioneering research into substantial gains in IQ scores across the 20th century yielding the "Flynn effect," which essentially explains that IQ measures not how smart we are but how modern we are. While our great-grandparents were highly intelligent, Dr. Flynn discovered, they would have scored poorly on IQ tests because they missed out on the 20th century's cognitive revolution. Check out his TED Talk, "Why our IQ levels are higher than our grandparents'" to hear him for yourself.
In this fast-paced spin through the cognitive history of the 20th century, moral philosopher James Flynn suggests that changes in the way we think have had surprising (and not always positive) consequences. TED: Ideas Worth Spreading
Originally from Washington, D.C., and educated at the University of Chicago, Dr. Flynn emigrated in 1963 to New Zealand. In addition to his Professor Emeritus status, he is also a Fellow of the Royal Society of New Zealand and received the university's Gold Medal for Distinguished Career Research.
While you may or may not agree with Dr. Flynn's research, keep in mind that his theories and perspective are but one of many surrounding intelligence, each of which is also thought-provoking. I'll leave it to you, intelligent reader, to determine what your perspective is.
* * *
Published three times yearly, the Mensa Research Journal highlights scholarly articles and recent research related to intelligence from a diverse selection of nationally and internationally esteemed authors. Learn more about the MRJ and subscribe today.
Featured Research