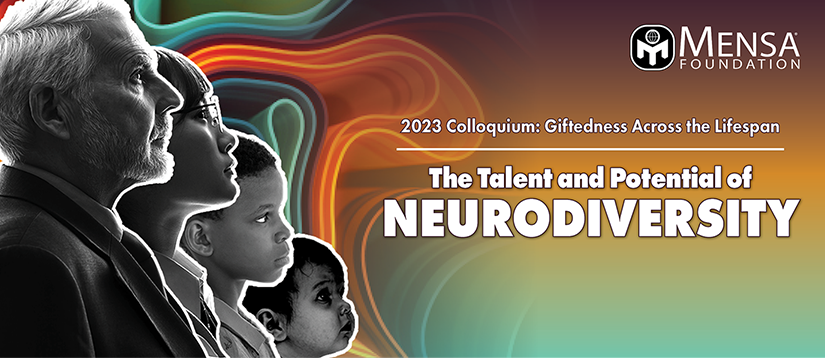 As we venture further into 2023, we stand on the threshold of a new understanding of human intelligence. The once narrow and unidimensional view of giftedness has been reshaped into a more intricate, nuanced, and multidimensional framework that embraces neurodiversity. Our society is beginning to acknowledge that variations in brain functions and behaviors are natural components of human diversity.
In recognition of these transformative perspectives, we are excited to invite you to the Mensa Foundation's 2023 Colloquium: "The Talent and Potential of Neurodiversity." This event shows firsthand how these insights can be harnessed to foster innovation and individual growth. Dr. Lawrence Fung of Stanford University will kick off the Colloquium by introducing the Strengths-Based Model of Neurodiversity. He will highlight how acknowledging the strengths of neurodiverse individuals can lead to increased innovation and productivity, benefiting both the individuals and the wider community.
Building on this theme, Dr. Don Ambrose will bring an interdisciplinary approach to our understanding of neurodiversity. In his session "Using Interdisciplinary Exploration to Expand Visions of Neurodiversity," he will draw upon diverse disciplines such as economics, sociology, neuroscience, and philosophy to broaden our understanding of neurodiversity and its educational implications.
Post-lunch, Dr. Shawn Anthony Robinson will share his personal journey as an African American male with dyslexia navigating a resistant academic system. His presentation, "The Intersection of Literacy & Creativity: A Pathway to Liberation & Self-Empowerment," underscores the transformative power of creativity and its role in overcoming obstacles and empowering the self.
Continuing this exploration of neurodiversity, Dr. Thomas Armstrong will present "Positive Niche Construction: A Wellness Model for Neurodivergent Children, Teens, and Adults." This insightful session will equip you with practical strategies and tools to foster a positive environment for the growth and development of neurodivergent individuals.
The Colloquium will conclude with an interactive panel discussion, inviting all participants to contribute their thoughts, ask questions, and engage in this collective discourse on neurodiversity.
This Colloquium promises to be an enlightening exploration of giftedness through the lens of neurodiversity and an invaluable platform for dialogue on a topic of long-range societal importance. We invite you to be part of this significant conversation and gain insights from global experts.
Your presence, contribution, and engagement are critical in shaping this new paradigm in our understanding of intelligence and giftedness. We look forward to welcoming you to this stimulating event!
For more information and to register, please visit the Mensa Foundation's 2023 Colloquium webpage.