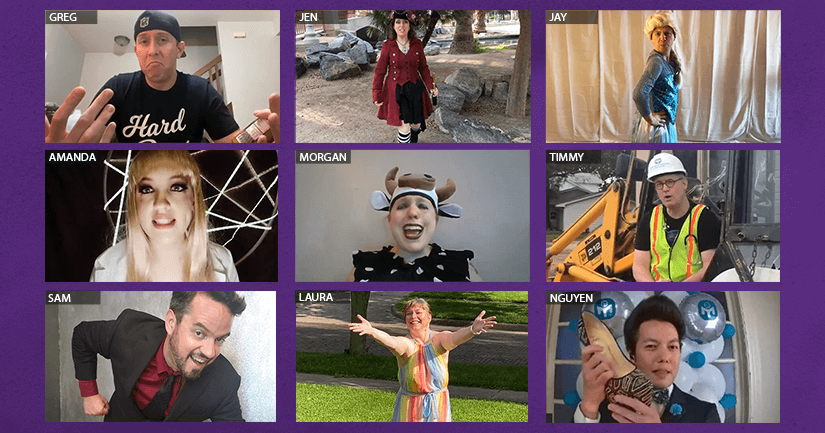 Put an asterisk on this year's Mr* Mensa pageant because it was unprecedented.
Even before the pandemic nudged the event online — it's normally a staple of the Annual Gathering — this year's contest was bound to break barriers. Organizers had ditched the guys (and only guys)-dressing-up-as-gals format and opened the competition to women (hence, the added asterisk in this year's moniker). The results delivered the first Mr. and Ms. Mensa duo and raised for the Mensa Education & Research Foundation a record $42,731 — more than double any previous year.
Mr. Mensa was originally staged as a satirical take on pageants, providing campy entertainment and raising funds for the Mensa Foundation. Formal wear-ready male contestants pandered to an amused crowd for donations and to judges for their electoral support, the former usually coinciding somehow with the latter. "Dates" with the contestants were auctioned off, a facet of the event this year's organizers canned.
On July 3, in front of an online, analytics-announced audience of more than 500, a panel of eight judges crowned San Diego Mensa's Jay Patton and Greater Phoenix Mensa's Jen Zbylski Mr. and Ms. Mensa (no relation).
Nguyen Pham of San Francisco Regional Mensa was back emceeing his eighth consecutive installment, providing reliably sassy commentary and adding some welcome familiarity to the proceedings. Metropolitan Washington Mensa's Terri Lee, also her Local Group's Gifted Youth Coordinator, co-hosted. And while the talent, attire, and question portions of the evening unfolded similarly to years past, the 2020 edition proved an entirely different experience.
"The virtual pageant was a roller coaster ride of canceled and changed plans that ultimately built me my pirate crew," said Jen, who donned buccaneer's garb during the show — on many occasions, really.
Nguyen lamented that the setup nixed his ability to read the room.
"Still, I had a complete blast thanks to the energizing audience comments as well as super-cute vibes from all contestants and from Terri, my delectable Gen X co-host this year," he said. "And despite my running on the fumes of four hours' sleep while refusing both caffeine and alcohol — my silly way of keeping the jitters and slurred speech at bay — I embraced the hard work of emceeing as it's work that's meaningful and rewarding."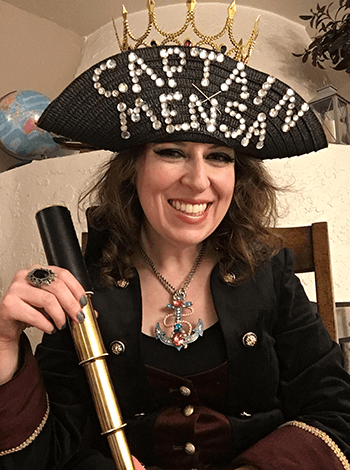 The online format did not dampen enthusiasm of the four male and four female contestants, nor apparently did it diminish the social benefits of embarking on the Mensa pageant circuit.
"I feel more connected to the Mensa community today than I ever have, becoming closer than ever through Zoom chats, Facebook groups, and text messages," Jen said. "Everyone I've ever loved came together to support me with encouraging words, financial contributions, and hard work."
Jen's co-throner, Jay, had never been to a Mr. Mensa event and rejoined about a year ago. He'd looked forward to meeting people, presumably in person, at the would-be 2020 Kansas City, Mo., Annual Gathering. Mr* Mensa preparations and its related fanfare and perfunctory state dinners might have facilitated that; nevertheless, the socially distant version proved to Jay rewarding.
"Being crowned Mr. Mensa was definitely worth all of the hard work that went into it. I put a lot of time into fundraising and into each portion of the contest," said Jay, whose campaign for Mr. Mensa raised $7,000. "I really appreciate everyone's support, and even though it was completely online, I met so many fellow Mensans along the way who I know will be great friends for life."
Credit the 2020 AG organizers, in particular AG Chair Tabby Vos, for Mr. Mensa's progressive turn. "We thought it was so important to modernize Mr. Mensa by making it inclusive to women, especially as we have so many impressive women in our ranks who wanted to support the Foundation," Vos said.
Indeed, the inclusion of women, abandoning the date auction, and the move online changed the dynamic of this year's event, but the huge fundraising haul would not have arrived without improvements to the donation process, normally a harried affair of National Office staff scrambling around a ballroom for cash and card swipes.
Audience favorite Amanda Pirrone puts a Gaga-esque spin on the mitosis phase of the cell cycle. Buckle up and gird your eukaryotic cells.
"We worked closely with the Foundation to revitalize the donation process via an online fundraising platform," Vos said, making giving easy and offering fun rewards.
Jen hopes the event will continue to evolve and become a more inclusive space for all M's wanting to give back.
"If I could change one thing, I'd like to see future contestants competing for one title regardless of gender," she said. "I humbly suggest Captain Mensa. It really embodies the hard work and fun required to win this title that can be accomplished by anyone … and a captain is only as good as their crew."
Mensa Foundation President Charlie Steinhice is thrilled to see the event shine a spotlight on the Foundation's myriad programs and resources.
"The hard work of the organizers, emcees, and contestants will help us increase the dollar amount of the scholarships we award and help expand newer programs like our Gifted Education Fellowships and research mini-grants," he said. "It also triggered our imaginations, as we're thinking of new ways to share our message and find new donors and volunteers."