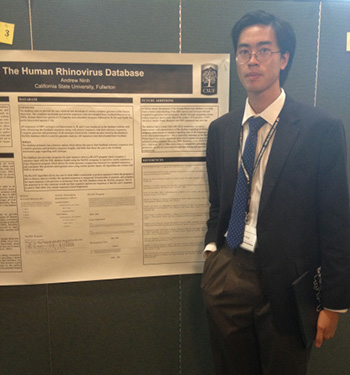 As you may have heard, the Mensa Foundation is increasing the amount of the Cooper/Mossip Scholarships for the upcoming scholarship program year to $600. We had a goal of doubling what had been a $300 scholarship. With a significant bequest from a Mensa member, we can accomplish that goal much sooner than we had anticipated.
What's a Cooper/Mossip Scholarship? Actually, it's two scholarships, each with multiple awards — the Karen Cooper Memorial Scholarship and the Diana Mossip Memorial Scholarship. One scholarship is awarded on behalf of a participating Local Group with the funding provided by the Foundation. In the 2015-16 program year, Diana Mossip scholarships were awarded in regions 1-5 and Karen Cooper scholarships in regions 6-10 for 94 participating Local Groups.
So who are these people and why are scholarships named for them? In the late '90s, the Mensa Foundation had received some donations significant enough that it chose to create two new scholarships. Both were named to honor individuals with ties to the Mensa Foundation.
Karen Cooper was a Trustee and Treasurer on the Mensa Education & Research Foundation board. She improved The Foundation's financial record keeping, which enhanced scholarship tracking. She died from breast cancer in 1996 while serving on the board.
Diana Mossip was the daughter of Carolyn Mossip, who was also a Trustee on the Foundation board and chair of the Awards for Excellence in Research committee. Diana died in an unfortunate auto accident in 1997 when she was a college student.
A look at the essays submitted by the students reveals a range of interests with a passion to achieve a goal.
Nedda B. received a Karen Cooper scholarship this year. From her essay: "Model UN is a program that introduced me to the importance of collaboration and compromise when it comes to solving pressing international issues. At the Royal Russell Conference, I worked with youth delegates from all around the world to develop resolutions that promote sustainability, alleviate poverty and establish peace. This conference, and the MUN program as a whole, have inspired me to want to take on a career as a real member of the United Nations, where I can collaborate with other individuals and work toward making a positive impact in the world."
Recipient of a Diana Mossip scholarship in 2013, Andrew N., has a passion for bioinformatics — using computers to collect, store and manipulate biological information — and is an avid researcher. Bioinformatics is a key tool in learning more about the human genome as well as data leading to new knowledge in genetics. Describing in-class activities on the subject, his teacher, Lisa Battig, told the Orange County Register, "He wasn't just referencing literature already out there," she said. "It was information he knew because of his own work with bugs. The students were flabbergasted."
Betty Jo H., winner of a Diana Mossip scholarship in 2015, wrote, "My educational adventure began roughly twenty years ago, after graduating from public school. […] I knew my desire involved work with children who had special needs, the ones who appeared to have been prevented or blocked from communication and integration into that average society we call 'normal.'" After working several jobs, earning an associate degree and serving a stint in the Army, Betty Jo continued to pursue her dreams.
She wrote, "My goal is to achieve my bachelor's degree in education, with a dual major of special education. With this, I will have opportunities for advancement in employment, or change to a new career assisting my community and continuing outreach to the special needs population that I serve. I hope to continue my education to a master's degree level, in a field that will allow me to continue to help people to find their voice."
If you'd like to be one of the first to read essays, volunteer to be a scholarship judge. Check to see if your Local Group is participating and needs judges. If not, you can still volunteer to judge in a region or group that has a need. For more information, email volunteerjudges@mensafoundation.org.