Meet Jared Foote, the Mensan who stole the show with his performance and generosity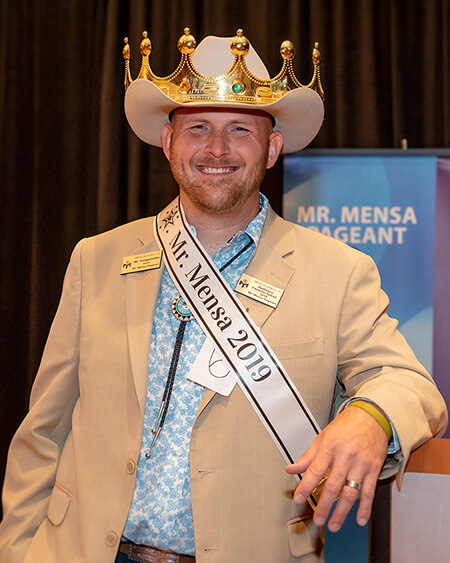 On most days, you can find Mensan Jared Foote tending to tomatoes and cucumbers at one of the several community gardens supported by his family's nonprofit, Abel's Offering. Other days, you might find him sporting frayed Daisy Dukes and matching construction worker's helmet — a felicitous uniform for the night to come — at the Mensa Foundation's annual Mr. Mensa Pageant.
Competing for the coveted Mr. Mensa crown and sash, contestants pull out all the stops to one-up their competition. And members of the audience, each one eager to outbid the rest for a date with the man of the evening, know that the proceeds from this night of silly debauchery directly benefit the Mensa Foundation's mission. After receiving support from his fellow Mensans and friends, Jared decided it was his time to get in on the fun and philanthropy.
Jared is soft-spoken and humble, in true Midwestern fashion. A native of Indiana, he claims it's those core Midwest values of humility and gratitude that kept him from recognizing his own gifts and downplaying his intelligence. It was ultimately a psychologist that encouraged Jared to join Mensa after he scored above the 98th percentile on an aptitude test for his job as an engineer. After taking the GMAT to pursue his master's, he decided to finally submit his scores.
While attending a Regional Gathering in Indianapolis, Jared experienced what many Mensans can only describe as the feeling of coming home.
"I had a great experience at the RG of just, you know, all the feelings that everybody else can relate to, of finding your tribe and feeling, like 'If everybody's weird then nobody's weird.' You fit in and you're not the odd one. That was a positive experience for me," said Jared.
Jared celebrated his seventh anniversary as a Mensan and first year as a Mr. Mensa contestant at the 2019 Annual Gathering in Phoenix. This year, he stole the show at Mr. Mensa and took home the crown by wooing the audience and judges with a Miley Cyrus-inspired wrecking-ball performance.
Jared didn't just compete to win. Early in the night he announced that he and his family would match every date auction donation. Thanks to that generous contribution, the event raised a grand total of $16,542.40 — a record amount.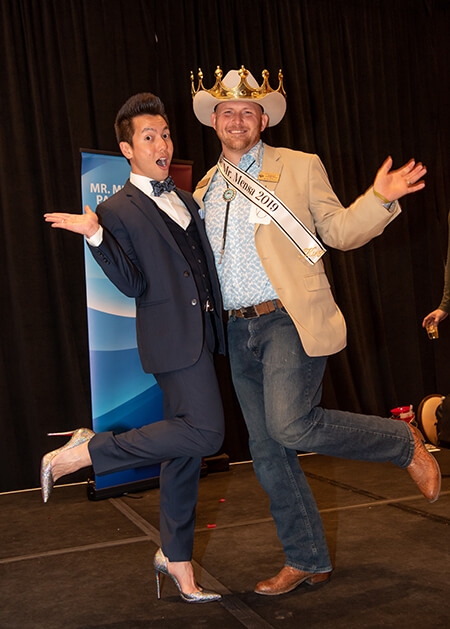 This charitable gesture parallels Jared's personal mission to provide nutritious food for his community in Northeast Indiana when he saw a need. And like his gardens, the Mensa Foundation provides nourishment for the gifted community. Whether through providing scholarships for undergrad and graduate students in need, recognizing groundbreaking research into and applications of intelligence, or supporting those who advocate for the gifted and twice-exceptional community, the Mensa Foundation is there to fill the gaps and for this reason, is worthy of support, according to Jared.
"I got to thinking about Mr. Mensa and it being about a performance," Jared says. "That really is what made me decide to compete in it — my background with my family's foundation and being philanthropic and willing to give back."
Jared is grateful for the support he received leading up to the event and for the opportunity raise money for a cause he supports, a sentiment echoed by Mr. Mensa's fabulously cheeky host, Nguyen Pham, who has emceed the pageant each year since taking home his own Mr. Mensa crown in 2011.
"I'm so grateful for this opportunity every year to be basically a train wreck in heels for a good two hours, and to raise a significant amount of money for a cause that is fully and wholly deserving of it," said Nguyen. "It truly is an honor to be able to be myself, and be authentic, and to bring some showmanship to the largest gathering of Mensans every year."
Jared says he hopes to see the event grow and for members to continue to offer their support to the Mensa Foundation by donating. He'd also like to see new, fun ways for members to contribute to the Foundation at future events. This year's sherry and whiskey tasting event, the proceeds from which enabled the Generation Y Special Interest Group to endow a scholarship in its name, is one of several examples Jared cites as part of this effort.
Whether it's the rush of being on stage, the feeling of being among others who simply get you, or the buzz of applause from several hundred of the world's smartest people packed in one room, Jared's reasons for competing in Mr. Mensa remain purely altruistic.