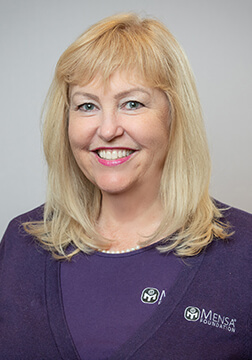 Vicki Herd was named to the Mensa Foundation board in 2017. Born and raised in Sydney, Australia, Vicki moved in 1986 to Calgary, Canada, and joined Mensa Canada in 1987. She has continuously served in Mensa volunteer roles since 1988.
Over the years, Vicki has served in almost all role Mensa Calgary offers, including Local Secretary and Proctor. Her main claim to fame is as major event planner, having chaired the planning committees for three Regional Gatherings in Banff and Lake Louise, the 2011 Mensa Canada AG in Banff, and the 2013 Mensa International Board of Directors meeting in Calgary. Never one to sit still, Vicki is chairing the 2018 Mensa Canada AG — Downton Mensa in Calgary. Her Calgary home is known locally as "Mensa Central."
In 2010, Vicki was elected to Mensa Canada's national board as Prairie-Arctic Regional Representative. She served as Treasurer before ascending to the President role in 2015.
Vicki was selected by Mensa International as a 2012 LEAP Ambassador (Leadership Exchange Ambassador Program), delivering presentations at the American AG in Reno and the Asian Mensa gathering in Bali.
In 2015, Vicki was appointed chair of the Mensa Foundation's International Scholarship Program and has recruited 15 inspired Mensan judges from five continents. That same year, Vicki started attending Mensa Foundation meetings as a non-voting proxy for the chair of Mensa International.
Professionally, Vicki has worked in senior finance and accounting roles. Her proudest achievement is raising a son single-handedly who now also belongs to Mensa.